We've been flying since before we could walk.
Our roots lie with Liberty Balloon Company of Western New York, owned and operated by Dad (Carroll) and brothers Lance and Lee Teitsworth.
We're a multi-generational family business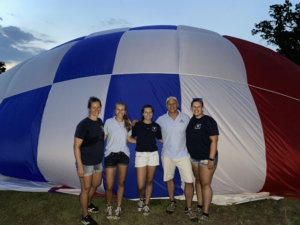 In 1999 we followed family tradition and began ballooning full time. Located in the foothills of the Blue Ridge Mountains, Blue Ridge Ballooning is our way of sharing the beauty of God's creation with others… of helping them realize that in the words of the wise sage Winnie the Pooh, "Life is a journey to be experienced!"
Liana Haseltine
Owner and Pilot
Pictured here with youngest daughter Keira, Liana has been ballooning for as long as she can remember (that's her in the ancient photo above!!), earning her pilot's license in 1995. Upon completion of her Biology degree at UVA, she promptly realized a traditional career wasn't for her… so in '99, Blue Ridge Ballooning was born. Even after close to 2,000 hours of flight time, you'll never hear her complain about the view from her "office"!
Jim Haseltine
Owner and Pilot
Jim's role as "anchorman" for Blue Ridge Ballooning is only one of his job titles. He is also a personal trainer, scuba diver, small group leader, and (believe it or not!) aficionado of all things Disney! If he happens to have spare time, Jim is most likely found enjoying the latest upgrade (or plotting the next one!) to his ever-improving home theater system.
Nicole Haseltine
Chief Chase Crew, Office Manager, Student Pilot
Jim and Lianas middle daughter, Nicole, is already an accomplished chase crew and has an eye on becoming a pilot herself. Although she isn't quite sure were life will take her, she knows the sky is the limit.
Bert & Joanie
Padelt
Equipment Maintenance Specialists at Best Aviation
If you're going to fly an aircraft, don't you want the "Best" in the business taking care of maintenance? Located outside of Allentown, PA, Bert and Joanie provide all of the required maintenance, annual inspections, and any necessary repairs to all of our balloon equipment.
Philip Harvilla
Flight crew and Private Pilot
A long time family friend, we were thrilled when Philip relocated to Virginia so we could welcome him to our team. He has a real job during the week but occasionally spends weekends with us to get his ballooning fix, aka "altitude adjustment"!
Eli Hartzog
Flight Crew
Jim and Lianas "adopted" son who is always up for an early morning wake up call to chase the balloons
Curious which of the balloons you see flying over Charlottesville are ours? Here's a guide.
Skywalker
Kubicek 120
Stay tuned for details about the newest addition to our fleet!
SCUBA
Lindstrand 105
Joining the fleet in 2019, the SCUBA balloon represents a merger of our two passions: flying and diving! Sponsored by our local partner Dive Connections.
Majestic
Lindstrand 120
Continuing the tradition of rainbow swirl patterned balloons, Majestic is our most frequently used passenger balloon.
Our first NEW balloon in 2005. Retired from flight in 2017, but still in service for "walkabout".
Horizon
Aerostar 105
Similar in appearance to Free Spirit, but the swirl goes in the opposite direction, and the middle band of blue is more royal than navy. Retired from flight in 2019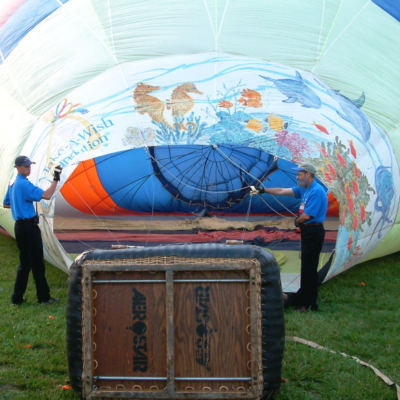 Celebration
Aerostar 105
Our first passenger balloon! In service 2000-2009. Her colors were a bit faded by the end of her life, but how many other balloons have seahorses prancing just above the basket?
The ballooning community in our area is robust! We frequently launch and fly alongside our friends and colleagues flying these colorful balloons.
Rick Behr
Boar's Head Ballooning
Mandy Baskin
Monticello Country Ballooning
JR Wingfield
Thomas Jefferson Ballooning